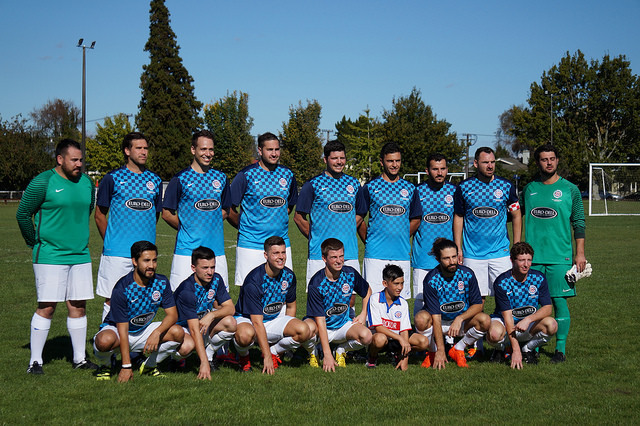 Week 13 proved unlucky for some, as Auckland's wet winter forced the postponement of nine fixtures, including the highly anticipated fixture between Auckland Wanderers and Zamantix Rovers. HNK Auckland's fixture against Kamarak was able to be played, allowing the Croatia Club the opportunity to clinch the League 1 title at the first attempt infront of their home fans.  As predicted last week, they duly took this change, winning 5-2. MASSIVE Congratulations on a job well done… You are the Champions! Can you go on to record the perfect season, and win the double?
Internationale opened up a 4 point cushion at the top of the Premiership with a 3-1 away win against Bohemian Celtic 2, whilst Bohemian Celtic 1 were able to earn a valuable point against third-placed Auckland Volcanoes with a 1-1, both games taking place at Bill McKinley park. Only two points now seperate the bottom-four teams, which now includes many people's title favourites Auckland Wanderers.  Wanderers play the league leaders at Seddon Fields on Sunday in the first of many 6-pointers.
Only one fixture was able to beat the weather in the Championship, and what a fixture it turned out to be! A 6 goal 3-3 draw between Sud America and Kingsland Athletic. The result was Kingsland's fourth draw of the season, and leaves them a point ahead of their opponents and a point behind sixth-placed City Fringe. it doesn't get any easier for the bottom two teams this weekend, however, with both scheduled to play the teams occupying the top two places.  Game of the day will be the Varsity derby at Tarahoto Park, with AUT FC looking to ensure the title race remains a 3 team battle as we enter August.
Nixon Park secured back-to-back wins for the first time this season, jumping two places as a result. Their 2-1 win over the Uni of Auckland Reserves was one of only two games to take place in League 1. The other was the HNK Auckland vs Kamarak fixture noted above. Can Nixon Park create a bit of breathing space at the bottom by beating AUT FC 2 on Sunday?
They may have two games in hand, and a superior goal difference of +31, but Double Rum Greenhithe's 2-1 win away at Auckland Unicorns means that long-time leaders Viti FC are no longer sitting on the top of league. Massey-Albany have featured in a number of high scoring games this season and Sunday saw the north shore students come out of negative points with a 4-4 against Aotea Sport Eastern. Viti will have to overcome third-placed U-Striker and hope that DRG slip up against bottom-placed All Red is they are to regain the top stop at the weekend.
Old Fellas opened up a 3 point gap at the top of the Masters League, comfortably beating bottom-placed Boys to Men Pukekohe 8-2, whilst their closest rivals were unable to play. Greenhithe City overcame Serious FC 2-0 in the other fixture.
Fingers-crossed the fields can dry out in time for Sunday, or else we face the real possibility of teams having to play some mid-week evening fixtures to ensure we have some trophies to hand out a finals day, which has now been pushed back to September 17th. Please keep two-eyes on our Facebook Page to ensure you remain up-to-date!