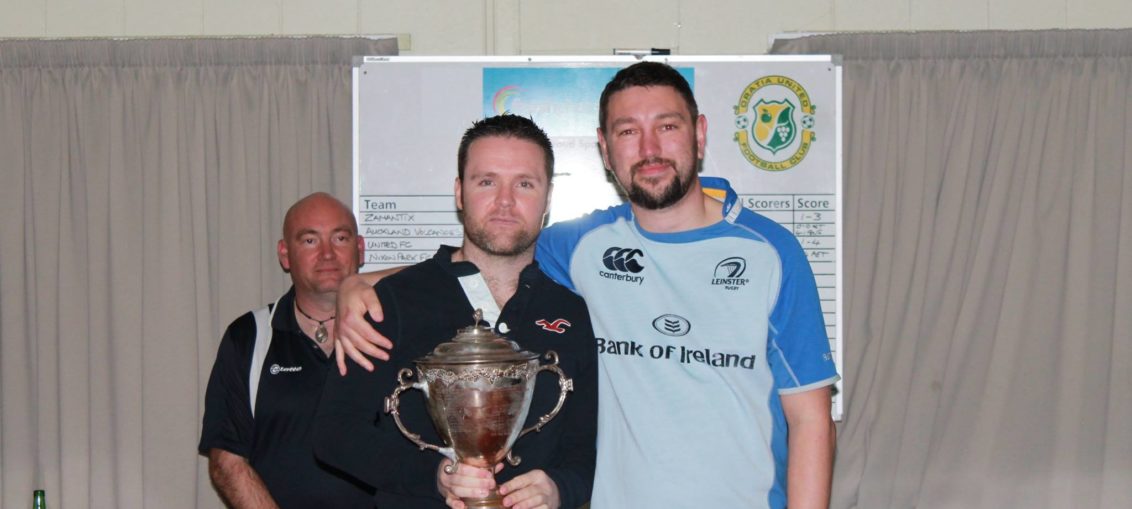 Apologies for keeping you waiting, but I was hoping to be able to use this post to announce a couple of new naming right sponsors for our knockout cup competition. Sadly, it looks like we may have to wait till 2018.
Were there any upsets? Just a couple!
The battle of the two league leaders saw United FC (1st, Championship) come out on top of Zamantix Rovers (1st, Premiership), following a game that finished 1-1 after 90 mins and 3-3 after extra time. United booked their place in the semi-finals by winning the penalty shootout 3-2, leaving Zamantix to focus on fighting Auckland Wanderers for the premiership title. Wanderers' hopes of attending a third successive cup finals day, and securing yet another double, were also extinguished on Sunday afternoon however, knocked out at the quarter-final stage at Bill McKinley Park by fellow premiership side Bohemian Celtic 2's (2-0).
Likewise, there will be no AUT FC team at finals day for the first time since 2014 with both their teams being knocked out of both cups at the Quarter-final's stage. Premiership Independiente proved too strong for AUT FC 1, winning 2-1 at Seddon Fields, whilst AUT FC 2's recent revival was ended in the L1/L2/Conf Cup with a 3-2 defeat at the hands of Viti FC. Internationale joined Indy, Boys Celtic 2 and United in the semi-finals of the Prem/Champ Cup, beating Kiwi True Blues 2-1 away at Anderson Park. Viti FC will be joined in the semi-finals of the L1/L2/Conf Cup by HNK Auckland (who knocked out Dalian 7-0), Auckland Wanderers 2 (who saw off the Old Fellas 2-1) and Zamantix Rovers Return (who beat Kamarak 3-2).
The semi-final draw saw Indy and Inter avoid each other in the Prem/Champ Cup, with Inter scheduled to play Bohs Celtic 2 and Indy having to play the unbeaten Championship leaders, United FC. In the L1/L2/Conf Cup, Zamantix Rovers Return will play Auckland Wanderers 2 whilst, in arguably the game of the weekend, big scorers and lower league leaders, HNK (1st, League 1, 50 league goals) will square off against Viti (1st in League 2, 68 goals scored).  what are the odds of a 0-0 AET, penalty shootout, in this one?
The Final of the Prem/Champ Plate will definitely feature a team from each division after the two remaining premiership teams and the two remaining championship teams were drawn to play each other in the semi-finals. Boh's Celtics 1's reward for knocking out Khukuri 2-0 is a match against Auckland Volcanoes (for progressed without having to kick a ball, thanks to the BYE). SudAmerica's reward for beating City Fringe 7-3 is a semi-final against Kingsland Athletic, who progressed without having to play UoA FC (3-0 default).
In the L1/L2/Champ Plate, the two remaining Masters teams have managed to avoid each other in the Semi-Finals. Waiheke's reward for thrashing All Red 9-0 is a much tougher fixture against League 1 side Nixon Park, who progressed at the expense of Massey-Albany in another defaulted game.  Zamantix Rovers Old Boys will face off against league 2's U-striker in the other Semi-Final, following their 6-2 win down in Pukekohe. U-Striker edged Serious FC 2-1 in their Quarter-Final match.
semi-finals provisionally scheduled for August 13. Games to be played at a neutral venue with the team drawn out the hat first being the home team. Check FB for more details.
Back to league action this coming weekend!